Are you wanting to modify your property? Movable walls are a fantastic addition to any home or office environment if you are looking to break up space effectively.
There are countless advantages to be had by choosing the movable walls that we supply at AEG Partitions – including more flexibility and privacy.
Do you know what to look out for when choosing and installing movable walls? Here are 10 factors to consider:
10: Cost
It is important that you find products to match your budget requirements. Movable walls from AEG Partitions are guaranteed to provide you with the best return on investment.
As a result of movable walls being easily reconfigured, they not only save you a great deal of time, money and effort, they also save on labour and materials too.
9: Sustainability
Knocking down walls to build new ones isn't sustainable and certainly won't protect the environment. Our acoustic movable walls are considered the most sustainable option to choose.
When installing acoustic movable walls, you want to choose products that have a long lifespan and can be recycled. That way, when they reach the end of their long life, they can be disposed of in a way that's safe and sustainable.
8: Technology
Depending on where you plan on installing the Teachwall 100 (pictured above) you may need to consider the latest technological advances to create a modern finish.
The Teachwall 100 is designed to offer easy ventilation, along with a high degree of soundproofing and stability.
Here at AEG Partitions, we provide acoustic movable walls which incorporate safety features that assist with easy operation.
7: Style
If you're looking to make your environment more visually appealing, you can't beat the Teachwall 100. Make sure that when you install a partition you use of all the space that you have available but don't restrict accessibility.
Likewise, if you're hoping to transform your home to make it more stylish and up-to-date, don't hesitate to infuse the space with your personal style preferences to create something sleek and elegant.
6: Depth
Installing a movable wall requires careful planning and consideration – especially if you're going to get it right! When choosing acoustic movable walls, we encourage you to think about the depth of the wall to ensure that there is sufficient space for power and data supplies.
The partition should prevent excessive noise volumes to create a suitable working/living environment.
5: Glazing
At AEG Partitions, we also supply a wide range of sliding walls, which are ideal for industrial and public buildings such as schools, offices and conference rooms.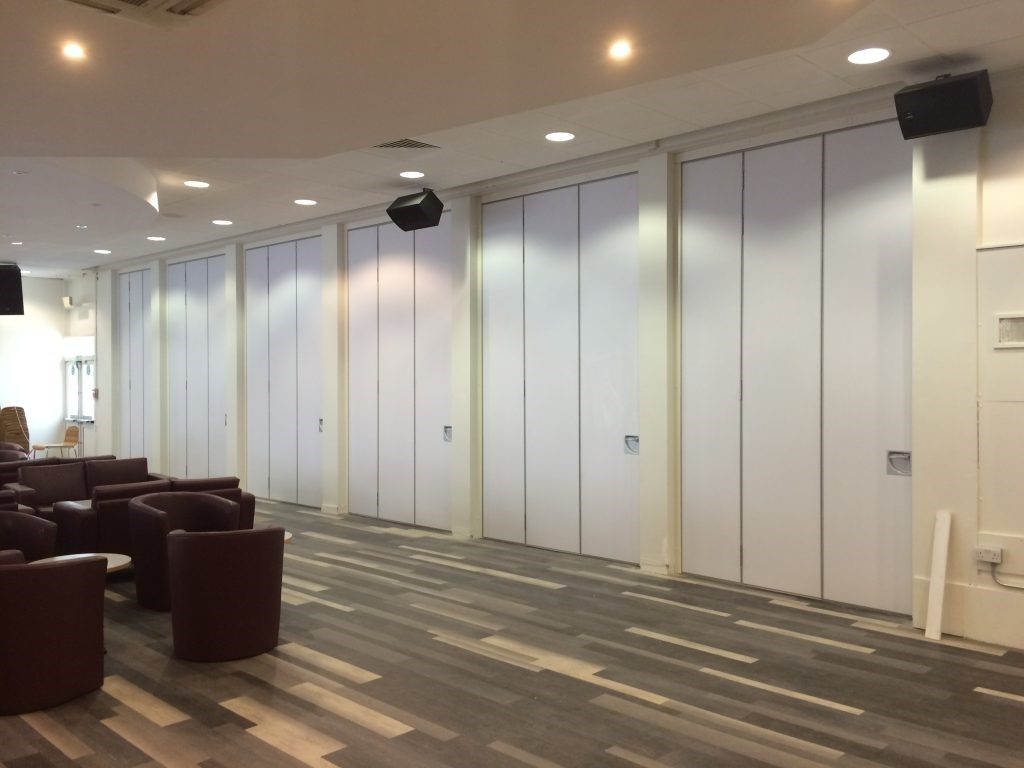 If you wish to maximise natural light, you'll appreciate that sliding walls can offer a high degree of transparency. We can supply sliding walls that are glazed to allow for a seamless appearance within your building, so be sure to check out the Teachwall 200 here!
4: Privacy
Something else to think about is privacy. If you're planning to separate the office up into smaller segments, our sliding walls offer a quick and easy solution. By sliding the wall across, you'd be surprised just how easy it is to create an ideal space for private meetings or interviews.
Although the Teachwall 200 offers visual privacy, sound absorption matters too. We supply the Teachwall 200 to suit any area, providing you with the appropriate level of privacy that you need.
3: Flexibility
To ensure that you find exactly what you're looking for, AEG Partitions allow you to tailor concertina walls to suit the exact nature of your business. This means that they fit neatly and provide you with a flexible solution for dividing office space.
The Teachwall 800 is available in various surface options, so you needn't worry about struggling to find concertina walls that match in with your existing décor. If you have any special requirements feel free to discuss them with our team of professionals and we will make sure that you find concertina walls that work best for you.
2: Operation
How do you want the acoustic movable walls to work?
Each of the products we supply are designed to be easily configured, making light work of opening and closing.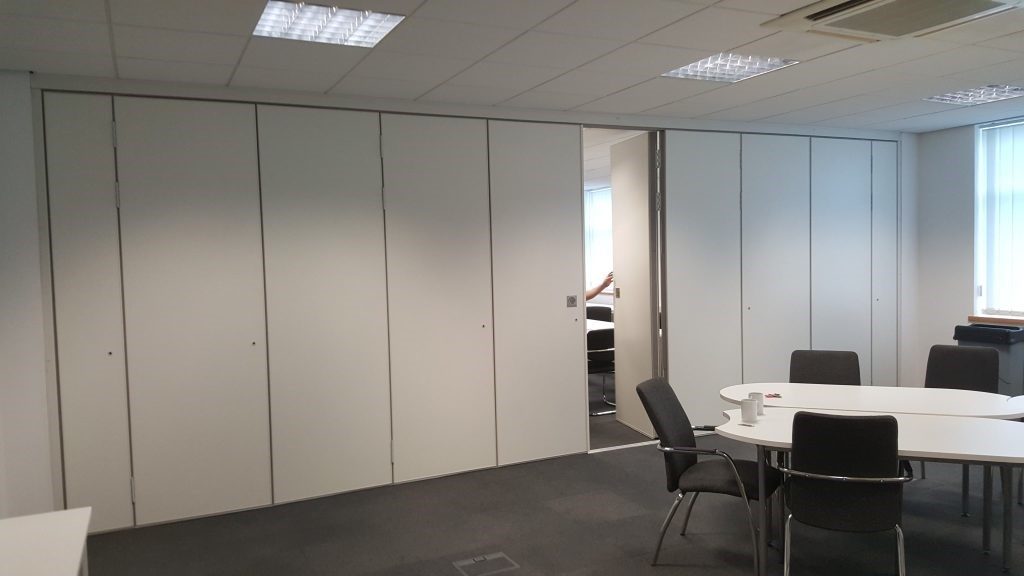 Sliding walls offer smooth operation, sliding open and closed effortlessly, whereas the concertina walls easily fold to utilise the space available.
1: Reconfiguration
Before you jump in two feet first, think about how often you plan on reconfiguring the space. If you like to rearrange your room frequently, it may work out better for you to install a movable wall – a temporary solution – rather than a permanent structure.
The main benefit of the Teachwall 100, 200 and 800 is that they can make the most of limited space; you can create the illusion of extra room or you can keep areas separate.
To invest in movable walls from AEG Partitions today – call us on 07547125493.