Movable walls are the perfect addition to any school setting.
They're easy to use, famous for their durability and give you the chance to make the most out of your space. But how do you decide on the right type for you?
The team here at AEG Partitions have put together a guide on movable walls in schools, including who they benefit and what type is the best for both staff and students.
Keep reading for more information on how to make the most from the space in your school.
Why are movable walls used in schools?
Movable walls are used in schools up and down the UK. They're perfect for everyone from messy youngsters to angry teenagers.
They're easy to use, hard to break and separate larger rooms without the need for building work.
Movable walls give you the chance to separate larger spaces into more intimate breakout rooms for small groups or meetings. Many of our clients use their movable walls during parents' evenings to ensure extra privacy.
Although mostly functional, movable walls also act as a decorative piece in any room. We have a range of colours available here at AEG Partitions, which are perfect to brighten up an outdated room. They can also be used to display work completed by the students or important displays aimed at a specific subject.
What types of wall partitions are available?
With so many types of movable walls available, it's sometimes difficult to decide on the most appropriate one for you and your school.
Here are the three types we stock here at AEG Partitions:
Movable walls
A movable wall is attached to the ceiling by tracks, which run smoothly along using ball-bearing trollies.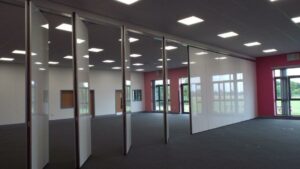 The self-supporting frame structure allows you to stack them up against one wall so they're out of the way when they're not in use.
Movable walls can be left slightly open (as pictured above), closed completely or stacked to one side.
You'll find them a lot in schools because of their soundproofing abilities. The sound insulation ranges from 37-60dB (decibels), so you never have to worry about overhearing the other class or disturbing an important meeting.
The best part about movable walls is that there are no floor tracks, making them wheelchair friendly.
Sliding walls 
Similar to movable walls, sliding walls can be stacked together when not in use. Sliding walls can be pushed to one side of the room or both, to maximise space without interfering with the rest of the room.
Looking to divide space in an efficient way? Sliding walls are here to help. You won't need to commit to any building work or permanent changes with our range of wall partitions, making them a budget friendly alternative for education settings.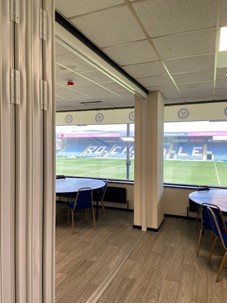 All of the moving partitions we have here at AEG Partitions are available in a range of colours and finishes, so you never have to worry about them not suiting the interior style of the school. Shop our range of muted yet timeless colour ways today.
Concertina walls 
Last but not least, we have concertina walls.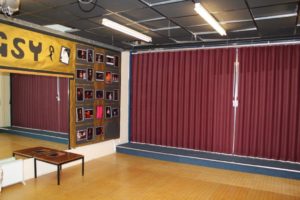 Concertina walls are a versatile and cost-effective solution that allows you to make the most of the space you've got.
They can be used to replace doors or be used as a room divider. Like all of the wall partitions we have available here at AEG Partitions, concertina walls are robust and durable, making them perfect for even the heaviest of use.
They're lightweight and minimally obtrusive, so the majority of ages and abilities will be able to use them.
Get your wall partition today with AEG Partitions!
If you like the sound of the wall partitions we have available here at AEG Partitions, give us a call today on 0333 305 0050. If you have any further questions, email us at sales@aegpartitions.com. Don't forget to include your specifications for your new wall partition and we'll give you some more information to help you decide on the right movable wall for you.