Movable Partition Specialists
Movable Walls, Sliding & Concertina Wall Partitions
Movable Wall Installation
We install Movable Walls, Sliding Walls and Concertina Walls to meet your requirements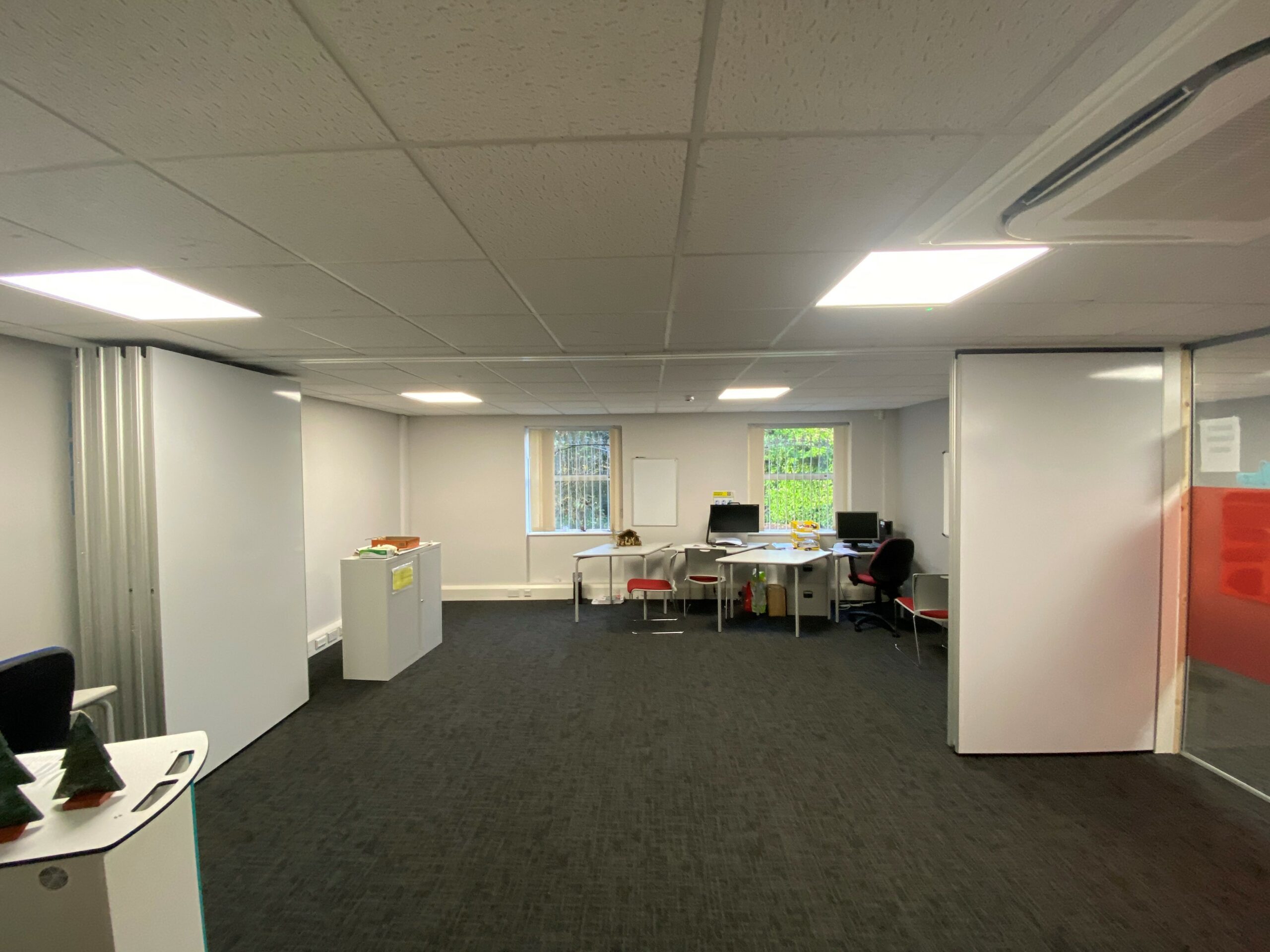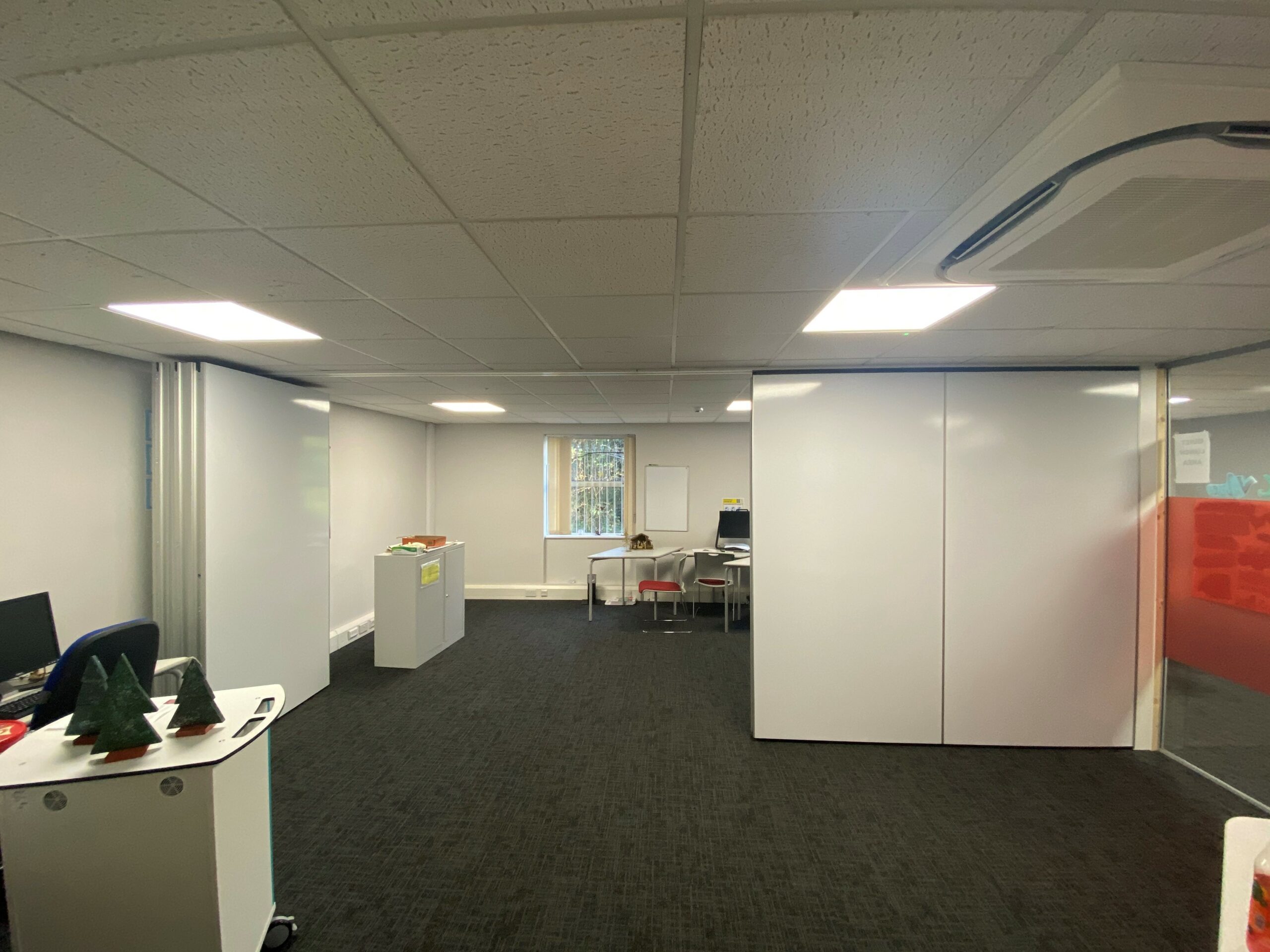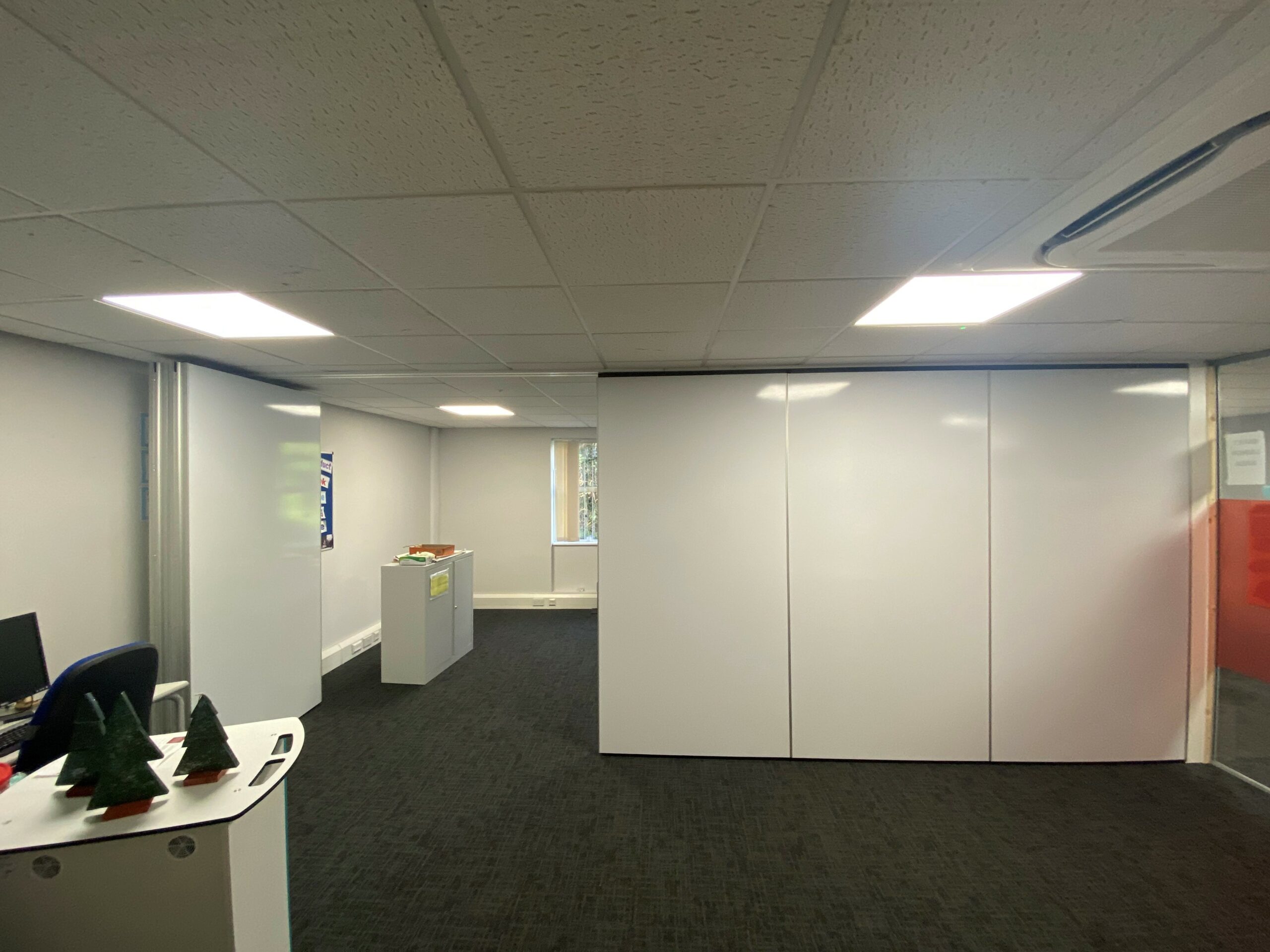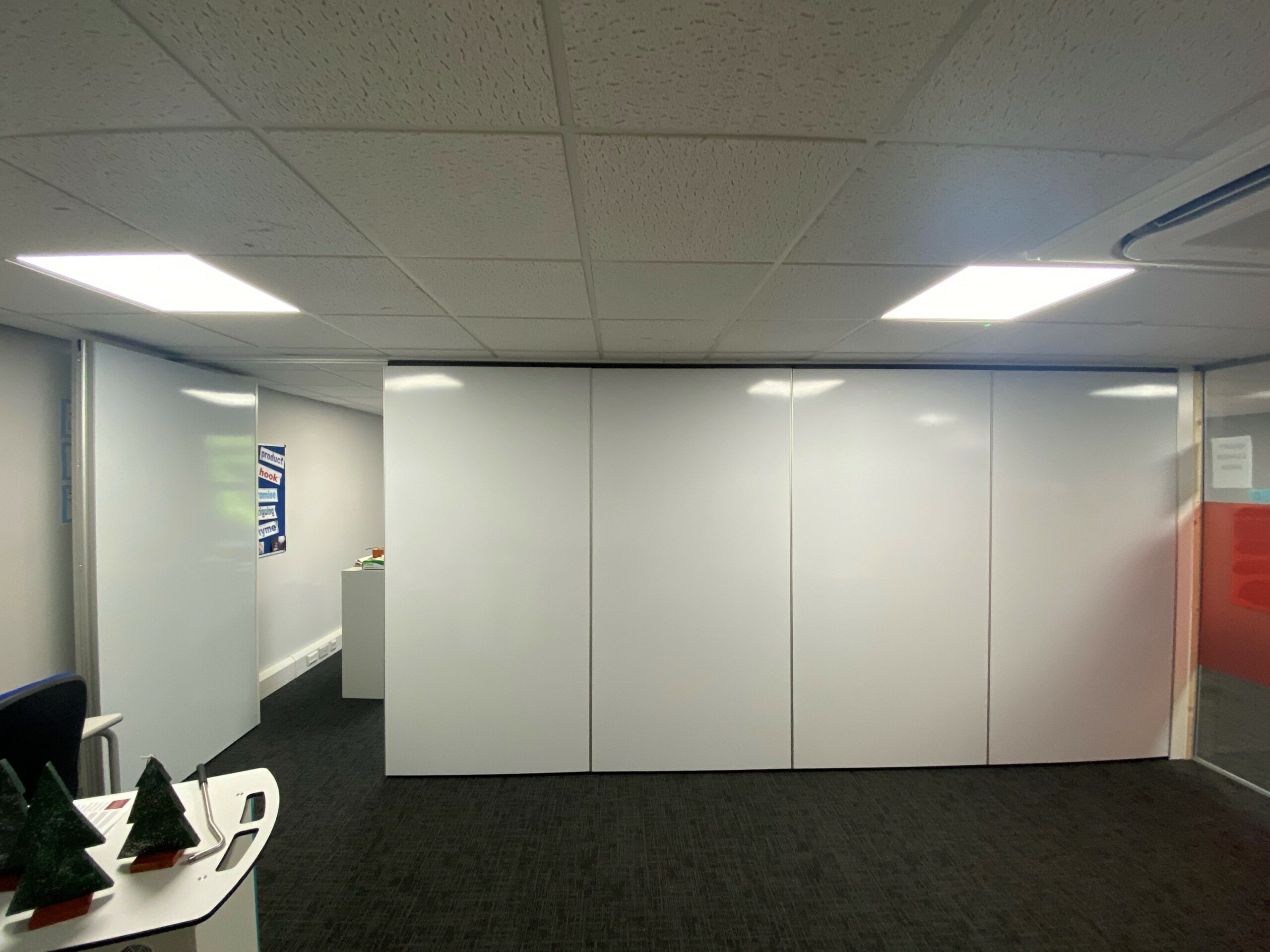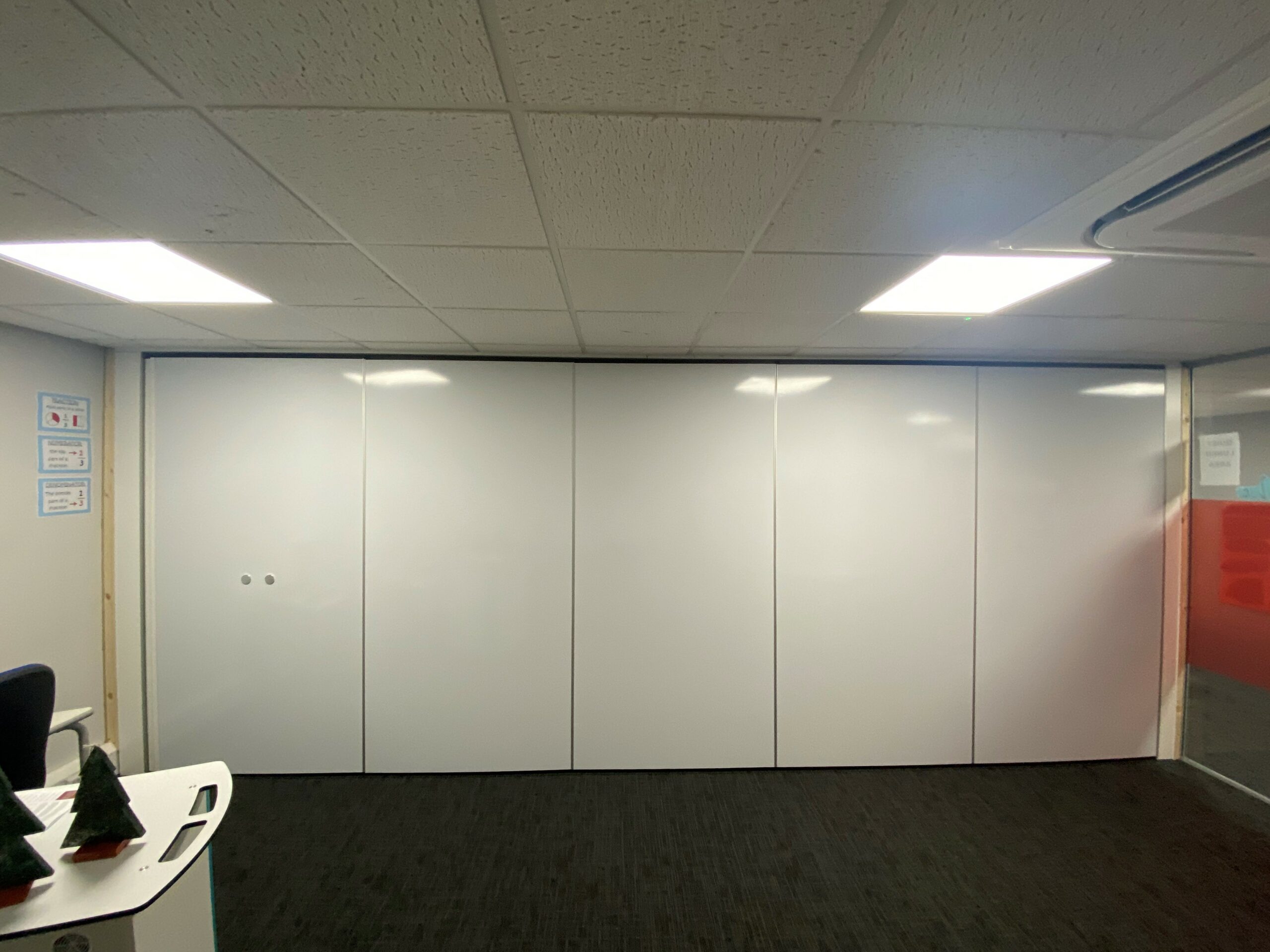 Our COVID-19 Company Update – AEG Teachwall is operating as usual. 03/07/2020
View Our Statement
MOVABLE Wall - TEACHWALL 100
• Top-hung, heavy duty, operable panels
• Sound reduction of up to Rw 60 dB
• Versatile stacking arrangements
• Telescopic Panel for optimal acoustics
See Our Movable Walls
SLIDING-FOLDING PARTITIONS - TEACHWALL 200
• Easily installed into existing building
• No structural requirements
• Sound reduction of up to Rw 52 dB
• Top/floor supported
• Versatile stacking arrangements
• Lever –handed pass door as standard
See Our Sliding Folding Partitions
CONCERTINA WALL - TECHWALL 800
• Durable, lightweight material
• Sound reduction of up to Rw 35 Db
• Swift, Quality Installation
• Economical option
See Our Concertina Walls
If you're looking for acoustic movable walls to minimise sound transmission and dynamically create space, we have your tailored solution! Our acoustic movable partitions are designed to suit your exact specification, using our expertise and nouse; gained from leading our industry for over 25 years.
AEG are a UK manufacturer and installer; of bespoke Internal Sliding-Folding Partitions and Acoustic Movable Walls.
Our supply chain is 100% UK manufactured materials and parts. By dealing directly with AEG, the UK's leading manufacturer you can ensure quality and service. We provide all aspects of the project, from; surveys, delivery, drawings, installation and maintenance, via one company, AEG.
Movable Walls.
Getting the design of your office perfect will enable you to increase the productivity and work efficiency of your workforce. When it comes to maximising space, AEG Partitions can help you to create an environment that is practical and encouraging for your employees and any visitors. The acoustic movable walls and folding partitions are designed to open easily, welcoming natural light and creating an illusion of extra space.
Our movable walls are perfect for dividing areas, creating a more organised and strategic environment. The Teachwall 100 is a simple yet effective addition to make to any environment that will allow you to separate your room in a professional manner.
Sliding-Folding Partitions.
The sliding and folding partitions are easy to configure- it's no surprise that they are suitable for schools, universities and offices (and various other institutions.) As a temporary solution, our Teachwall 200 can designate a specific area of the room for meeting rooms and conference events, keeping your office professional. With the sliding walls, we can help you to create an environment that is soundproof- perfect for private discussions!
The team here at AEG Partitions design the sliding walls to suit even the most diverse demands, so you needn't worry about finding exactly what you're looking for. We pay careful attention to detail, prioritising customer satisfaction. You can expect our team of architects to push the boundaries, achieving only the best for your business.
Concertina Walls.
The acoustic movable walls are especially versatile, as are the concertina folding walls that we supply. They can easily be opened or closed, allowing you to control volumes within your working environment. Although we supply the concertina walls to minimise sounds, this is not to say that it's the only advantage that they offer. The Teachwall 800 is designed to utilise space effectively.
Here at AEG Partitions, our professionals arrange to deliver products at a time that suits your needs best. We aim to provide you with a service that is convenient and tailored towards your specific requirements, making sure that your products arrive in plenty of time.
Find out how we can help you – check out our extensive range of products today!
Read More
What products do AEG Partitions supply?
Here at AEG Partitions, we manufacture and supply only the best movable walls on the market, including acoustic movable walls, sliding partitions and concertina walls – as well as movable wall dividers and glass partition dividers.
Manufactured to the highest quality, our movable walls are perfect for splitting office environments up into departments or creating pop-up meeting rooms. Our acoustic movable walls can also be used in schools, colleges, universities and gyms to prevent the transfer of unwanted sound and vibrations – providing optimum conditions.
What do AEG Partitions do?
AEG Partitions are experts in manufacturing, installing and maintaining award-winning movable walls, and have worked with big names, such as Shell UK and British Nuclear Fuels Limited.
Always ensuring movable walls are installed with minimal disruption, we regularly fit movable walls in schools, offices, churches, hospitals and hotels across the country.
Offering a bespoke design service, we pride ourselves on competitive prices and quick turnaround times.
As their name suggests, movable walls are floor to ceiling panels that can be adjusted to change the spatial arrangement of the room. They are sometimes referred to as operable walls, movable partition walls, demountable walls or sliding walls as well.
The great thing about movable partitions is that you can transform a single space into a number of smaller spaces with minimal effort. For example, you can divide the school hall into separate areas or split a large conference room into multiple meeting rooms. And the best thing is, when movable wall partitions aren't required, they can be easily folded, moved or concealed – without taking up too much space.
As a leading manufacturer of award-nominated movable walls – including acoustic movable walls, sliding walls and concertina walls – you'll be hard-pushed to find a better choice, at a more competitive price, than the ones we supply here at AEG Partitions.
If you'd like to know more about movable partition walls, take a look at our blog 'What are moveable walls and how can you benefit?'.
Where are movable walls installed?
There's no denying that movable partitions are great for maximising space, improving the acoustics, and creating privacy for meetings and conference events – saving you the hassle and expense of knocking down or building walls. But where can they be installed?
Here we list just a few places our acoustic movable walls can be used:
Churches
Educational establishments e.g. schools, colleges and universities
Hospitals and doctors surgeries
Hotels
Offices
Warehouses and factories
A huge bonus is that all of our movable wall partitions are manufactured in-house, and we offer a bespoke design service for interior designers and architects. So, if you're wondering whether you can install movable walls elsewhere, be sure to get in touch. Our team will be more than happy to assist you every step of the way – ensuring your movable partition walls look great and last for years to come.
How much do movable walls cost?
At AEG Partitions, we keep our prices competitive – ensuring you get maximum value for your money. Four factors determine the cost of movable walls:
materials
operation (i.e. sliding or folding)
ceiling height
complexity of installation
Door panels often cost more than standard flat panels, and taller panels, made from various materials, will be priced higher than those made from one consistent material.
In addition to the price of movable walls, you also need to factor in labour. Obviously, the more complex the installation, the higher this will be.
Feel free to email your requirements to sales@aegpartitions.com for a free, no-obligation quotation for movable walls.
What are the benefits of Movable Walls in Schools?
The school environment should be somewhere that promotes fluidity, creativity and inspiration, right? If this is the ethos that you are trying to achieve in your school setting, then have you considered a moveable wall for your space? After all, these pieces of equipment are becoming more and more popular in modern schools, as many establishments are realising the benefit that these have in promoting a positive learning environment.
Still not convinced? We here at AEG Partitions are on hand to let you know why movable partition walls are the perfect upgrade for your school…
Adds versatility to the learning space
Long gone are the days of your bog standard classroom, which may have been short on space, colour, and inspiration back in the day! In more modern times there has been a big push on creating a fluid learning environment, which has involved making the most of all of the spaces that a school has to offer. If you are looking to split off your large class into smaller groups for project work, or open up small class for a large group presentation, a movable wall is the perfect solution.
Here at AEG Partitions we are able to install one of our walls in your school premises with ease, their ease of use allows you to switch up the way of learning on the fly, whilst also helping you plan ahead with the structure of your lessons.
Encourages collaboration and cooperation
We understand that there are going to be instances in which smaller class learning will be most beneficial, however, group learning has become more and more popular over recent years. This promotes a sense of collaboration to reach a goal together, which mostly mirrors working in a job when they are older.
Adapting to working in groups has never been as easy with an acoustic moveable wall in your room. They allow you to quickly change your normal classroom into a large work space area for group work. This more relaxed and fun environment will get children learning from their peers as well as their teachers, allowing for a more positive experience in the classroom.
Adapt to the theme of your room
As well as proving to be a valuable addition to your classroom, they can also look the part and seamlessly fit with the theme that your school has adopted. Are you looking to keep a theme that promotes personality and creativity whilst still maintaining your school's brand to external visitors? Our movable walls could fit perfectly in the perfect learning environment for your students.
Contact us
So, are you looking to get started on installing a moveable partition wall for your school setting? If you are, the experts at AEG Partitions can help you add this piece of apparatus to your school setting in no time. We are also able to give you a full demonstration on how to use your new wall to ensure that seamless transition during lessons, so your students can spend as much time as possible learning!
To get in touch with one of our team today, simply give us a call on 0151 318 3356 or email us at sales@aegpartitions.com. You can also message us online through our online enquiry form if this is the best method of contact for you.
Movable Walls, Sliding Walls & Concertina Wall Partitions
Boasting benefits; the movable walls are a fine investment to make, no matter how much space you have available! Here at AEG Partitions, we have developed a wealth of knowledge and expertise over the years, installing movable walls and folding partitions, so you can rest assured that you're in capable hands.
Specialising in design, manufacture and installation, we make sure that your movable walls are installed correctly, providing you with a temporary solution for dividing areas within your office. At AEG Partitions, we accommodate the needs and requirements of all clients, meeting and exceeding criteria, wherever possible.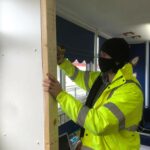 Currently offering COVID-19 solutions for your business.
Enquire Now
For More Information